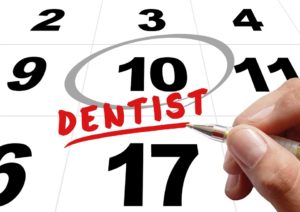 At the start of the year, many people are focused on getting started on their New Year's resolutions. This time right after the holidays can be a busy one as you begin to get back to work, school, and other responsibilities. Even so, the best way to spend the start of the year is by knocking out doctor's appointments, such as your biannual dental visit. Continue reading to learn four reasons why dash is the perfect time to visit the dentist.
#1: Do It While You Have Time
The holidays offer a nice break from everyday life. Visiting with friends and family, going on vacation, or just relaxing at home feels well-earned after a busy year. The end of the holidays marks the start of another busy year, so that's why it's the perfect time to visit your dentist.
Many people will be focusing on preparing to return to work or school, so there should be plenty of appointments available. Additionally, it's best to take care of your first appointment of the year before your schedule becomes jam-packed once more.
#2: Catch Problems Early On
While some people wait until an oral health issue arises to visit their dentist, this isn't the best idea. though dentists have trained tirelessly to learn how to properly care for damaged smiles, visiting them before things get out of hand is always the better option. This will allow you to save a lot of time, money, and stress. It will also keep you from needing to take time off from work or school to have your teeth worked on.
#3: Maintain a Happy, Healthy Smile
When returning from vacation, many people have new clothes, accessories, or hairstyles to show off. So why not return to work or school with a new smile? By visiting your dentist at the start of the year, you'll be able to return to your everyday life with a clean, bright, and brag-worthy smile that's free of oral health issues.
#4: Maximize Your Dental Insurance Benefits
A deductible is the amount of money that you are responsible for paying out of pocket before your dental insurance covers anything. The deductible resets at the start of each year for most insurance policies. this means that you will have to start from the beginning to meet your deductible.
Having dental checkups at the start of the year makes this easier to do. Additionally, the sooner that you meet your deductible, the more likely you will be to receive coverage for any restorative or emergency dental treatments that you need later in the year.
About the Practice
Corte Madera Dentist is led by Dr. Julie Young and features a team of talented, compassionate oral health professionals. They serve patients in Corte Madera as well as the surrounding communities and offer treatments like dental checkups and cleanings to keep your smile looking and functioning at its best. Are you ready to schedule a visit with Dr. Young or do you want to learn more about her services? If so, you can visit her website or call her office at (415) 924-5300 to get started.