Welcome to
Health and healthcare in all forms can't afford to be overlooked, especially your oral health. Corte Madera Dentist – Madera Dental Julie Young, DDS serves this area with dental care designed around the individual. Everything—from the dental office space to the services we provide—is tailored to your needs.
You should be able to feel comfortable and confident that you'll get the best dental treatment available. From teeth cleanings to more advanced treatments, Dr. Young will be there with you through all of it. Her experience enables her to notice potential problems before they become serious and to adeptly treat existing problems.
Patients of the Corte Madera Dentist – Madera Dental Julie Young, DDS don't have to worry about extended waiting times; we make a point of not keeping our patients waiting. In addition, the dental office and equipment used are always kept completely sterile, so you can be sure you and your family are safe and protected when you come in for an appointment.
Testimonials
Dr. Young has been the best dentist ever for more than five years! As a "young senior", my teeth seem to need more attention than ever, and Dr. Young delivers! She has prescribed antibiotics for infected teeth on a weekend, seen me immediately at the onset of symptoms, etc. Quite frankly, there is not a single thing more I could ask for in a dentist, except that she adopt me!
---
Doctor Young has been our family dentist for the past ten years. We have always been very pleased with her work. She has done two crowns and a root canal for me. She doesn't recommend something just to make money if it can wait.
---
I just came back from Dr. Julie Young's office and always have experienced great care and friendliness from the staff. I have now been a patient now for over 20 years and wouldn't thinking of changing. Did change once but could not live without the great service and now travel 30 miles each way to see Julie Young DDS. Recommend this office highly.
---
Dr. Julie Young is amazing! I've only ever seen a few dentists throughout my life, and I had been looking for one in Marin for a couple of years. She was thorough and knowledgeable, but most importantly, gentle and compassionate. My teeth feel the cleanest they've ever felt! I'm so happy and grateful to have found my new dentist in Marin. Thank you, Dr. Young!
---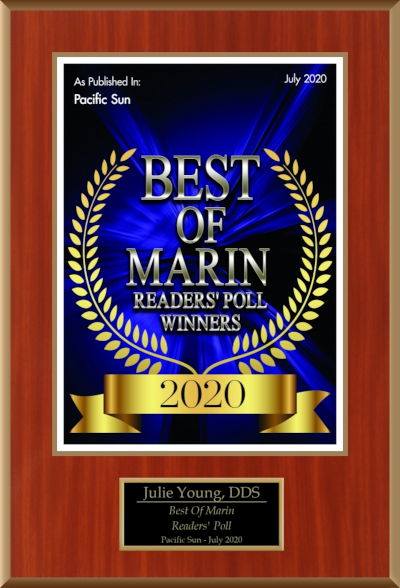 For Great Dental Care and an Even Better Smile, Call the Corte Madera Dentist – Madera Dental Julie Young, DDS Today!
Whether you are hoping to prevent premature tooth loss due to periodontal disease or simply looking for a shiny new smile, your Corte Madera Dentist – Madera Dental Julie Young, DDS is here to help you through individualized care. Call today to schedule your first appointment!