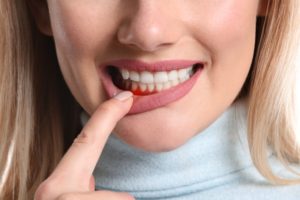 Do you wish you could enhance your teeth to create your dream smile? With cosmetic dentistry, you'll be able to confidently show off brand-new pearly whites for many years to come. However, if you're struggling with periodontal disease, then you'll need to get this treated first. Keep reading to learn why your cosmetic dentist in Corte Madera will have to provide gum disease therapy before moving forward with improving your teeth!
What Is Periodontal Disease?
Periodontal disease is an infection of the gums that can have a serious negative impact on your oral health. If left untreated, this condition can result in severe loss of teeth, bone, and gum tissues. This situation is typically a result of poor oral hygiene, which can allow bacteria and plaque to build up on your smile. Instead of undergoing cosmetic dental treatment, you'll have to get your gum health back on track beforehand. Your dentist may even suggest other preliminary treatments like root scaling and planing depending on the severity of the issue.
Will Gum Disease Keep Me From Undergoing Cosmetic Dentistry?
If you don't address gum disease, it'll only make cosmetic dental work problematic for you later on. You'll need to completely eradicate the infection before going forward with your desired treatment. To avoid any potential complications, it's best to treat the issue right away to save you time, money, and headaches. It can take several months to address gum disease. Once your oral health is in good shape, your cosmetic dentist will be able to discuss your treatment options to transform your pearly whites!
Why You Need to Treat Gum Disease Before Cosmetic Dental Work
Speak with your dentist if you're struggling with gum disease. Certain cosmetic dental services, like veneers, can make it challenging to detect oral health issues like cavities and diseases, which will need to be resolved before improving your smile. Otherwise, the bacteria can spread throughout your body, increasing the risk of more serious problems that'll require additional costly procedures to fix, such as lung and heart disease. Plus, other concerns (like decayed, broken, and missing teeth) can't be treated until the infection is removed.
Although gum disease can keep you from undergoing cosmetic dental treatments, it doesn't mean you can't resolve the issue beforehand. Consult your dentist about your condition, and they'll be happy to provide the treatment you need to move forward with creating your dream smile!
About the Author
Dr. Julie Young earned her dental doctorate from the University of the Pacific School of Dentistry and has been delivering outstanding care for well over three decades. She is also a member of numerous prestigious organizations like the Academy of General Dentistry and the American Dental Association. She provides a wide range of high-quality and comprehensive services, including periodontal treatment, teeth whitening, and veneers. If you'd like to schedule a consultation, visit her website or call her at 415-924-5300.